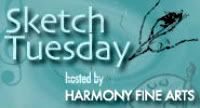 This week's assignment was to draw something hot. Here we are!
I-6 a black batman tshirt on a hot day
R8 -a stove

E9-Chicken pot pie from the oven

When I brought this up to the kids they thought it was a terrific idea. So, there you have it our first try at
Sketch Tuesday
.