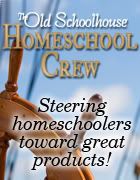 I thought it might be about time that I announce that I was chosen to be one of the new The Old Schoolhouse Homeschool Crew Members for 2009-2010.
I am very excited about this opportunity to review homeschooling products. I'm just getting started and learning the ropes, but as time goes on you will notice some reviews coming your way as soon as products start coming my way!
My first "stretching experience" will be to finally learn and use Mr. Linky. Wish me luck!
Whenever I review something for the TOS Crew I will try and end my post with the graphic below. I am ready to set sail!