Ok, well it's Saturday and I've had a little time to poke around and follow some links today. I thought I'd share a few.
I suppose I should start from the beginning. So, I'll go with
Sketch Tuesday
first. The same mom- Harmony Art Mom who hosts The Outdoor Hour is hosting Sketch Tuesday. I've run across some other families participating and I think we'll try it out. The links are here and in my left sidebar. Each week she gives her readers an assignment based on an art subject or technique. The idea is do the assigned drawings and send pictures of the final product to her. She shares the results on her blog- you guessed it Tuesdays are the turn over days.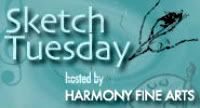 Today she has up a link to a watercolor tutorial over at
Hearts and Trees
. I enjoyed reading
technique #3
and going backward to
tutorial #s 1
and
2
. I will definitely do these with the kids this week . She also has a terrific looking summer kit that would be fun to order...if my van didn't require so much of us lately.